Video : "Smelly Outsiders , Beggars " Beijing Woman Scolds on a Bus
Read Time:
2 Minute, 35 Second
The Public Traffic Safety and Security Branch of the Beijing Municipal Public Security Bureau confirmed that at 8 o'clock on May 27th, a 63-year-old woman used discriminatory language to abuse other passengers while riding on the 856 bus in Beijing.
A video of the elderly woman on a Beijing bus yelling at passengers aroused online attention. The lady, who claims to be physically disable went nuts when a young girl didn't give up her seat immediately upon noticing her.
"I look down on outsiders. You don't have quality. You don't give up seats for the old, weak, sick and disabled. I look down on you." "Smelly outsiders, You're going to Beijing to beg for food. From your looks, I can tell you are not a Beijing local " .
The scolded female passenger replied: "Beijing is all yours. If you have the ability, why not go and live in the Forbidden City."
The woman immediately replied, "I was born under the red flag and grew up in Tiananmen Square. What about you, a stinky outsider. I am really a yellow banner person with a sky pattern. Look, do you have one?" She lowered her hat and pointed to her forehead to show the young female passenger.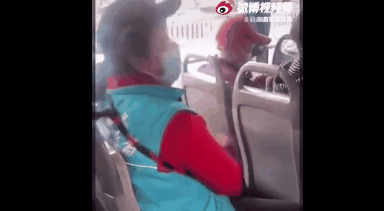 There were passengers in the car who couldn't stand the quarrel , and persuaded her, "What does this have to do with outsiders? Don't you think you are provoking a conflict?"
But the woman did not listen to their persuasion, but rather continued to rant: "I look down on outsiders. They don't have quality. I look down on them. This is called Beijing. My household registration is in the second ring road.!"
There was a Beijing local on the bus who couldn't stand the lady , and said, "Just because you are a Beijinger, doesn't mean you should mess around, go back to your second ring road, and live under the imperial city."
The lady immediately scolded: "What does it have to do with you? I have a family here in Shunyi. What does it have to do with you? ."
The Beijing passenger replied: "Because I am also from Beijing, I think Beijing locals should be ashamed of you."
A staff at the Beijing Public Transport Group responding to the incident said that the woman's behavior did not cause substantial harm to any person or property, and they could only give her moral guidance.
"We can't deal with ethical things. We have been doing this work (guide civilized rides), but there is no way to ensure that every passenger meets the ethical standards. We can only improve on it a little bit. At present, in terms of legal norms, she has no clear violations of the law. Unless she endangers public safety or violates some regulations of public security, we will choose to report to the police and let the them handle it." a staff member said.
The woman has been administratively detained by the police according to law.